But what does Black History Month mean?
But what does Black History Month mean?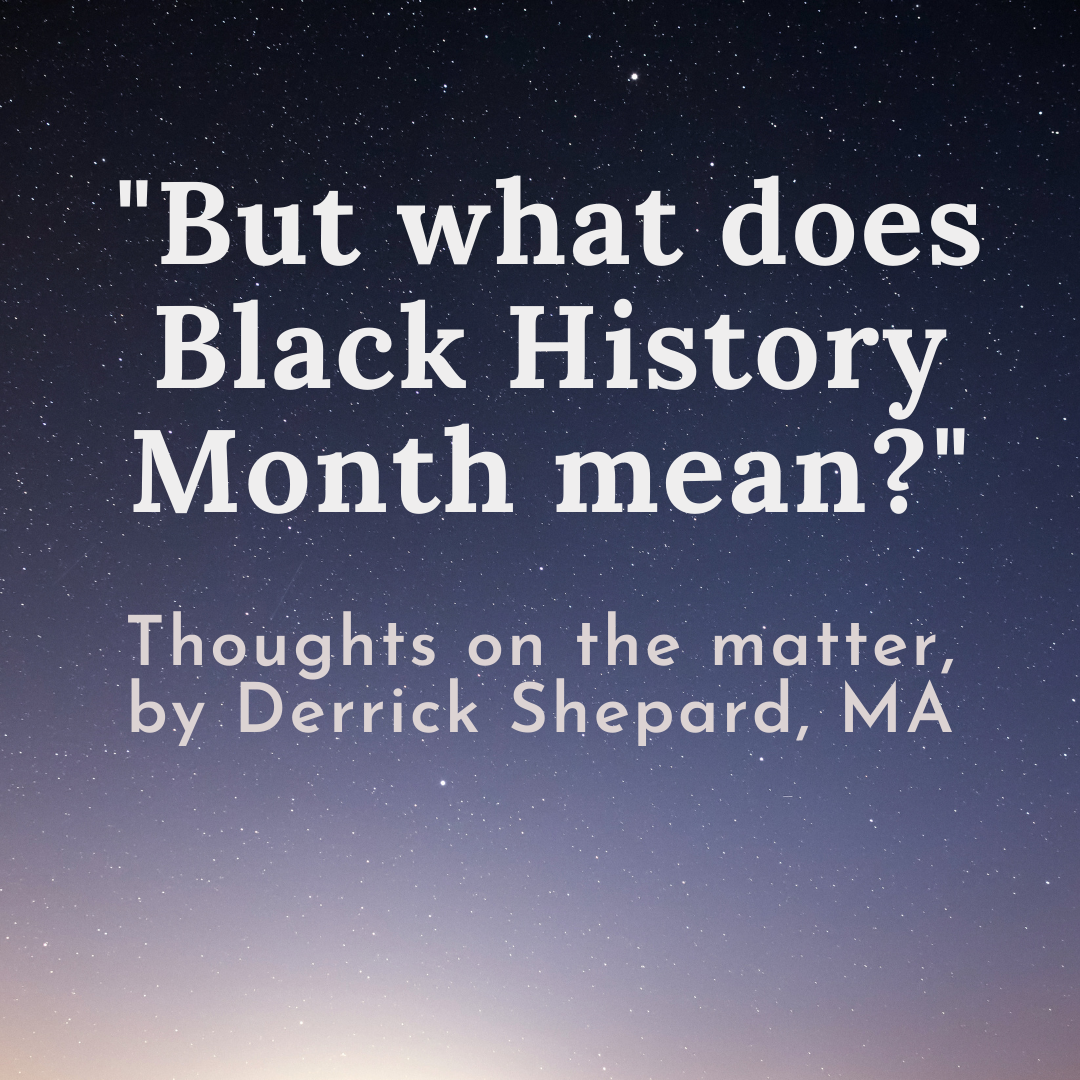 Wow! It's Black History Month, again. The Tennessee Association of Multicultural Counseling and Development (TAMCD) asked me to submit an article for the TCA blog, and it got me thinking. What is Black History Month? What does it mean to me, a Black Instructor of Counseling? Well, here are my thoughts.
Black History Month became a federal holiday under President Gerald Ford in 1976. Since 1976, Black History Month has evolved from a pleasantry to a "bit" of significance. In fact, this is the first month I can recall the Tennessee Lottery celebrating Black History Month with commercials. But what does Black History Month mean?
If Black History Month is boiled down to a bunch of cliches; "keep hope alive," or "if there is no struggle, there is no progress."  In keeping the pleasantries alive the status quo is kept alive. I offer a different perspective.
The United States just came off one of the most consequential presidential elections in my lifetime. If nothing else, the past administration bought front-and-center the fact this country has a long way to go in terms of racial, ethnic, sexual, religious, and (put other identity here) freedoms we spout from the Constitution. If we are to move forward, this country needs an intentional effort to promote inclusion, compared to diversity. Diversity is meeting the "numbers." Inclusion is having an equal seat at the table. Diversity is a watered-down effort by those in power to appease those in the struggle. Inclusion is acknowledging the evils of the past and making an effort to correct them. Diversity is the buzzword. Inclusion is action.
As I conclude, I cannot help but think of the old saying, "this too shall pass." Yes, Black History Month 2021 will pass, but to what end? We owe it to ourselves and our profession to just not let this pass. So, what is Black History Month? Black History Month is an effort for inclusion, just like Asian Pacific American Heritage Month (May), National Hispanic Heritage Month (September 15th – October 15th), LGBT History Month (October), or National Native American Heritage Month (November). Black History Month is not just one month or a metric to meet, just like the other designated months that celebrate the diversity of marginalized populations. Black History Month, along with the other marginalized populations' months, is a time to reflect and ask, "what am I doing to promote inclusion?"
Derrick Shepard, MA 
Instructor of Counseling 
University of Tennessee, Martin 
Share this post: